By Geraldine Collins on May 18, 2017.
No Comments
Olympian John Jermyn visits Ashton and inspires everyone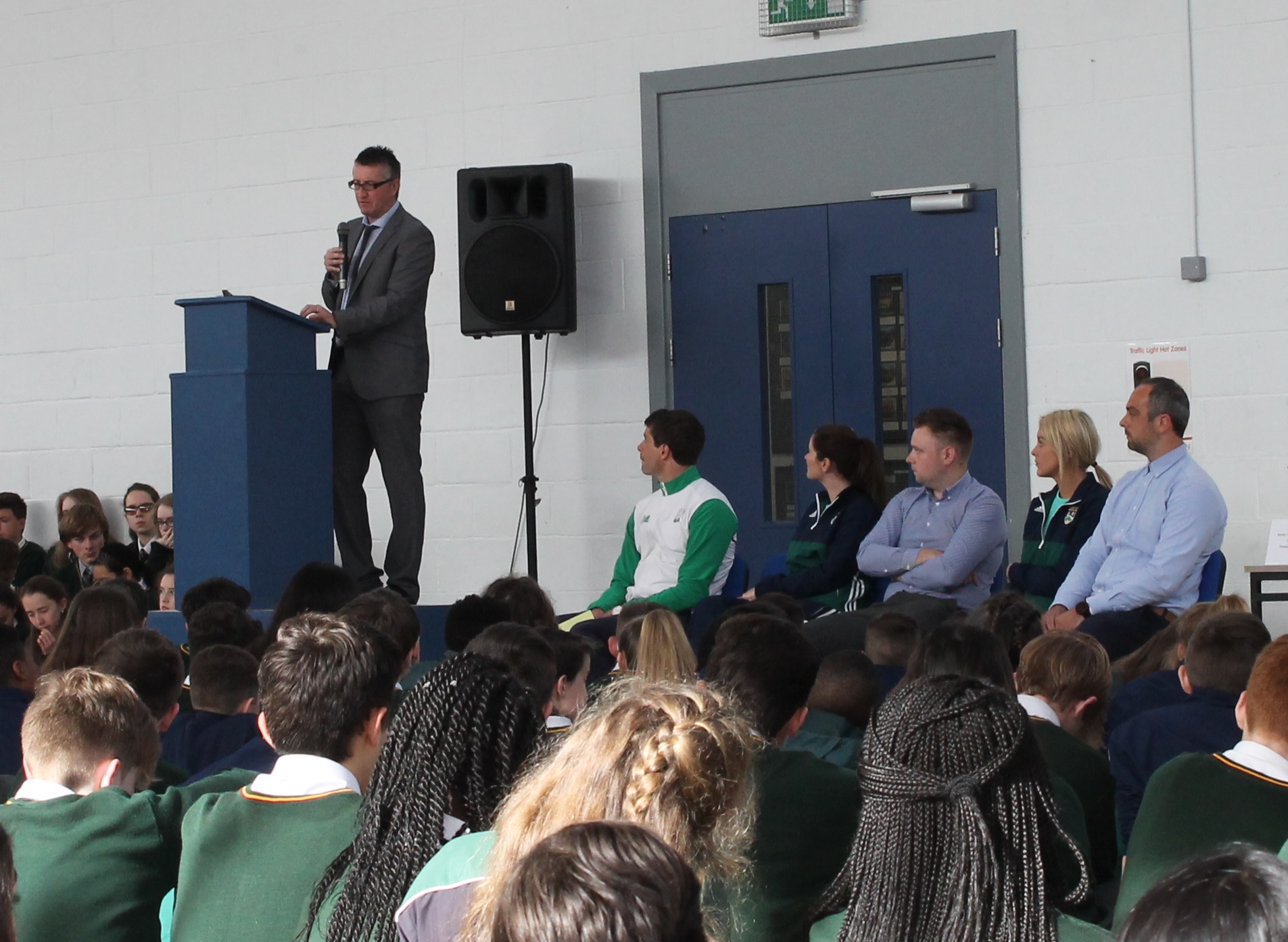 When Olympian John Jermyn entered the Sports Hall at Ashton School, Blackrock road, the sense of occasion was palpable, as the school choir, directed by Dr. Mary O'Brien, accompanied by Mr. Peter Stobart sang the aptly titled 'When you believe'.
He was greeted with a warm welcome to Assembly by Principal Mr. Adrian Landen, assisted by Deputy Principal Ms. Anne Marie Hewison.
Mr. Eddie Kirwan, Head of Physical Education Department introduced John Jermyn to students, staff, invited guests, and Board of Management, compering the event with skilful competency, good humour, and panache.
John inspired everyone present with the endeavours, trials, and routine of a high performance athlete, which are extremely intense, in order to be selected to compete for his country in hockey at the 2016 Olympics, as he was.
He is Ireland's record goal-scorer with 92 goals in 178 International hockey matches.
A past pupil of Ashton school from 1996-2001, he was not shy in attributing his sporting success in hockey, done to an intensity recognised internationally, to his former P.E. teachers Mr. Bertie Smith and Mr. Eddie Kirwan.  Mr. David Hobbs Senior Hockey International, his peers, former school pals, and the strong Physical Education programme supporting excellence in sport at Ashton, locally, nationally and internationally, across all codes and disciplines, also played a major role in his sporting success, he stated.
John has represented Ireland at U16, U18, U21, and Senior International level in hockey, and was a former under-age Cricket International.
As a professional lawyer, he used every opportunity during his working day, in addition to gruelling daily training commitments, to increase his fitness levels, prior to selection for the 2016 Olympics, as is required at elite International level. This occurred despite having stepped back from International Hockey from December 2012 till April 2016. He defied the odds, got selected to play for Ireland, and is Ashton School's first Olympian.
He remains the only athlete in the world, in the professional and amateur game in any sport, to actually finish the 30/15 Bleep test.  This was done through his determination to 'be as fit as he 'had' 'ever been'.  A lesson in self-belief and goal-setting for all aspects of life which Ashton students listened to intently.
Our Olympic Sportsman John Jermyn then presented awards, plaques, historically significant cups, and silverware to student athletes across the sporting codes, at all levels from local to international.
The Senior Sports Girl award was presented to Christina Dring.  Senior Sports Boy award was presented to James Murray-Good.  The Junior Sports Girl recipient was Emily Whitaker, and the Junior Sports Boy recipient was Rory Lee.
We salute you, John.