Exchange Programs
Introduction
Ashton School has been involved in school exchange programmes for many years.
There are many reasons for this:
• The school has always had a cosmopolitan atmosphere with students from many countries attending the school.
• Ireland's membership of the European Union has alerted students to the reality of a bigger world outside of Ireland and realistic preparation for life involves preparation for life outside Ireland.
• The recent emphasis on oral and aural examinations as part of Leaving Certificate Examinations in modern languages has increased the importance of real-life experiences of these languages in a natural setting.
• Personal student experiences of exchange programmes have underlined the positive benefits of travelling to and meeting with students from other countries.
French Exchange
Cork City has been formally twinned with the Ville de Rennes for many years and school exchange programmes are obvious ways of strengthening this exchange link.  In 2004 a new exchange programme was started with Lycée Jean d'Arc Saint-Ivy in Pontivy, Brittany.  Prior to this from 1990 to 2002 there had been an exchange programme with Lycée Anne de Bretagne in Rennes which ended when Lycée Anne de Bretagne was closed due to falling numbers in the centre of Rennes.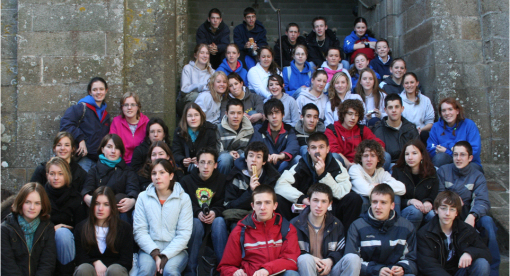 German Exchange
Ashton has had an exchange programme with Lessing Gymnasium in Köln (Cologne), Germany since 1998.  Students from Ashton, usually either second or third years, travel to Cologne, stay in the homes of the Germany students and attend classes in Lessing Gymnasium. The return visit sees students from Cologne coming to Cork, staying with Irish families and attending classes at Ashton. A new initiative has been Transition Year students doing work experience in Cologne, again staying with German families.  At a later date the German students return to Cork, live with the Irish families and do work experience in Cork.
Please find below other news related to Exchange Programs:
April 10, 2020. School Closure in response to Covid-19
August 12, 2019. A History of Ashton School, Rochelle School, Cork Grammar School and Cork High School
October 22, 2018. Part-time Office Secretary Required
May 26, 2018. 'High School Musical' a resounding success.
May 20, 2018. The significance of the Tree of Life for Confirmation students in the Diocese.
March 19, 2018. French Exchange Group in Paris
March 16, 2018. French Exchange in Pontivy
December 8, 2017. Athletics students have great success
December 7, 2017. Art student Jade Segrillo is a winner
December 6, 2017. Y.M.C.A. presentation at assembly
December 5, 2017. Sports Person of the month November 2017 Christina Dring
November 22, 2017. Ashton Awareness Week against Bullying in all its forms
October 25, 2017. Lord Mayor Cllr. Tony Fitzgerald visits Ashton
October 23, 2017. Ashton Choir attends Reformation Service
September 15, 2017. Head Girl and Head Boy greet Bishop Paul Colton
July 20, 2017. Bronze medal for Diarmuid O'Donoghue at International Chemistry Olympiad
July 6, 2017. Listowel Writers Week Winners.
May 29, 2017. Transition Year Awards Night
May 23, 2017. John Spillane charms students and staff
Read all news related to Exchange Programs >