By Ashton School on Mar 21, 2019.
No Comments
Ashton Notes – February 2019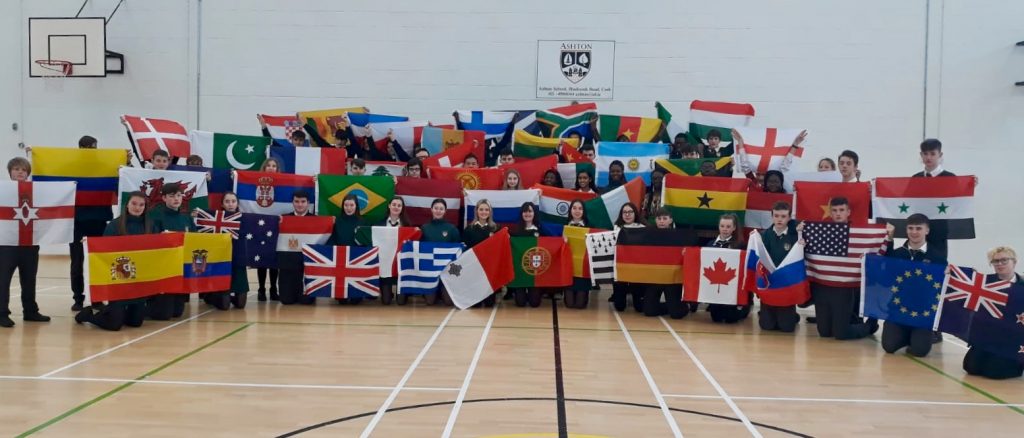 Ashton School's 2019 Wellness week ran from Mon Jan 28th – Fri 1st Feb. The theme for this year was "Celebration". A number of in class activities ran in SPHE, P.E. and R.E. and all subject teachers were encouraged to embrace the theme in their own lessons. Some of the activities happening were Salsa dancing for 5th year girls, an African dance workshop, Positive post-its for junior Cycle, compliment cards, a Poster competition and looking at celebrations across the world.
A number of students from TY and fifth year worked alongside Mr. Ruttle to run a school wide survey to determine the range of cultures that make up the diverse school community in Ashton. The School Development Committee then funded the purchase of over 30 flags to represent the backgrounds that make up our student cohort. A special celebratory assembly ran on Wednesday of the snows. It was led by the students who organised the survey. Students from various class groups represented each country in a splendid flag parade. The flags were displayed in the G.P.A. to remind students of the many different places we all come from but also to remind us that we are all a part of a united school community.
French Table Quiz
Ashton took part in the annual Cork French Teachers Association table quiz. Two teams from Transition year represented the school. Questions were on history, culture, French speaking countries, celebrities, film etc. Our team of Michael O Connor, Julien ter Pelle, Theo Hardwick, and Scott Stephens came infirst. Followed by Bishopstown Community School and Scoil Mhuire. The prizes are sponsored by the French embassy and Alliance Française and French department UCC.
Good luck to all our students currently in the throes of their mocks.
Sporting Notes
The Cross Country South Munsters Competition was held in Riverstick on the 1st Feb 2019. Emily Whitaker, Senior Girls, Ewan Lee, Intermediate Boys, and Ellen Lee, Minor Girls were successful in qualifying for the Munster Championships that will be held on Feb 15th in WIT. The Senior Boys made history on Friday the 1st Feb when they beat Bandon to win the White Side Trophy for the first time. This is a highly competitive league in which two teams take part from Leinster and two from Munster. The Senior Boys beat Midleton College 5-0 in their cup semi-final campaign with impressive performances from Andrew Salter, Kevin O'Dea, Jack O'Meara, and Stephen Rumley. The Minor C Girls won their first round of cup against Killorglin 2-0. They now play Midleton College on the 15th Feb. The Junior B Girls beat Loreto Fermoy 1-0 in their cup competition. They too face Midleton in the cup quarter final. The Senior C Girls continue their league success this term by beating Regina Mundi College.
Ashton School Players are currently dedicated to the upcoming run of 'Alice in Wonderland' which will play from 1st to 5th April in the school hall. Tickets for our popular annual production will be on sale from the school office in anticipation of a sell-out run.